Zurich, 07 November 2023 – Eraneos heightens their focus on Data & AI competencies with the successful recruitment of noted digital transformation, c-suite executive Andrew de la Haije. A cross-industry, international expert for large-scale digital transformations, he is set to ensure client organizations benefit from the full scope of Cloud and Data & AI transformations. Eraneos' strength lies in bringing together business strategy and indepth technical expertise. Topics such as strategy, governance, security and implementation are integral to the solutions offered. Andrew de la Haije joins Eraneos as partner to take on a leadership's role with a focus on strategic Data & AI initiatives within the international Eraneos Group.

Eraneos, already strong on Data & AI, now moves to bolster capabilities, enabling both local and international clients to benefit from a portfolio that specifically features access to complex digital transformations. Andrew de la Haije will spearhead the significant expansion of these services in all Eraneos markets. Leveraging his considerable knowledge and industry connections, together with Eraneos Group's digitalization expertise and local consultant teams, Andrew de la Haije will focus on ensuring a comprehensive portfolio for data-driven digital journeys.
"The combination of management consulting and deep technology knowledge in Data & AI, Cloud and Security enables us to support our clients in their digital transformation journey. The Eraneos approach focuses on the development of an appropriate strategy, the development of business cases, the technical implementation, not to mention the embedding within the organization. The second aspect that sets Eraneos apart is the ability to operate locally and internationally. Where the scalability and internationalization of our clients is increasing exponentially, Eraneos can draw on a pool of over 1,100 internationally operating experts"
Andrew de la Haije, Partner, Eraneos Group. 
"Eraneos is intent on ensuring our clients benefit from the full spectrum of knowledge and expertise needed to shape their successful digitalization journeys, from strategy through to implementation. A successful future for our clients, our business, and our people relies on us continuing to build a strong and proven international footprint in Data & AI and using this expertise to develop digital transformation journeys with our clients. We are pleased to welcome Andrew de la Haije. With his ambition, his experience in building international practices, and his mindset he is the right person to actively shape and drive our path forward."
Oliver Vaterlaus, CEO Eraneos.
Andrew has over 25 years of experience leading large scale digital transformations and technology initiatives from strategy through to implementation, in both the public and private sectors. Serving on several boards, advisory committees, and as a c-suite executive, Andrew brings an unsurpassed level of knowledge and understanding of the real issues faced by today's organizations scaling operations and transformations within the international digital landscape. Andrew applies his expertise for leading multinationals in both emerging and mature markets, to shape their strategy and deliver improved business performance. 
 
The recruitment of Andrew de la Haije continues to showcase Eraneos' dynamic strategy for increasing its international digital transformation footprint. It follows Eraneos Group's announcement on the recruitment of Dr. Carlo Gebhardt to lead the Group's Cybersecurity strategic initiative, from 3 October 2023.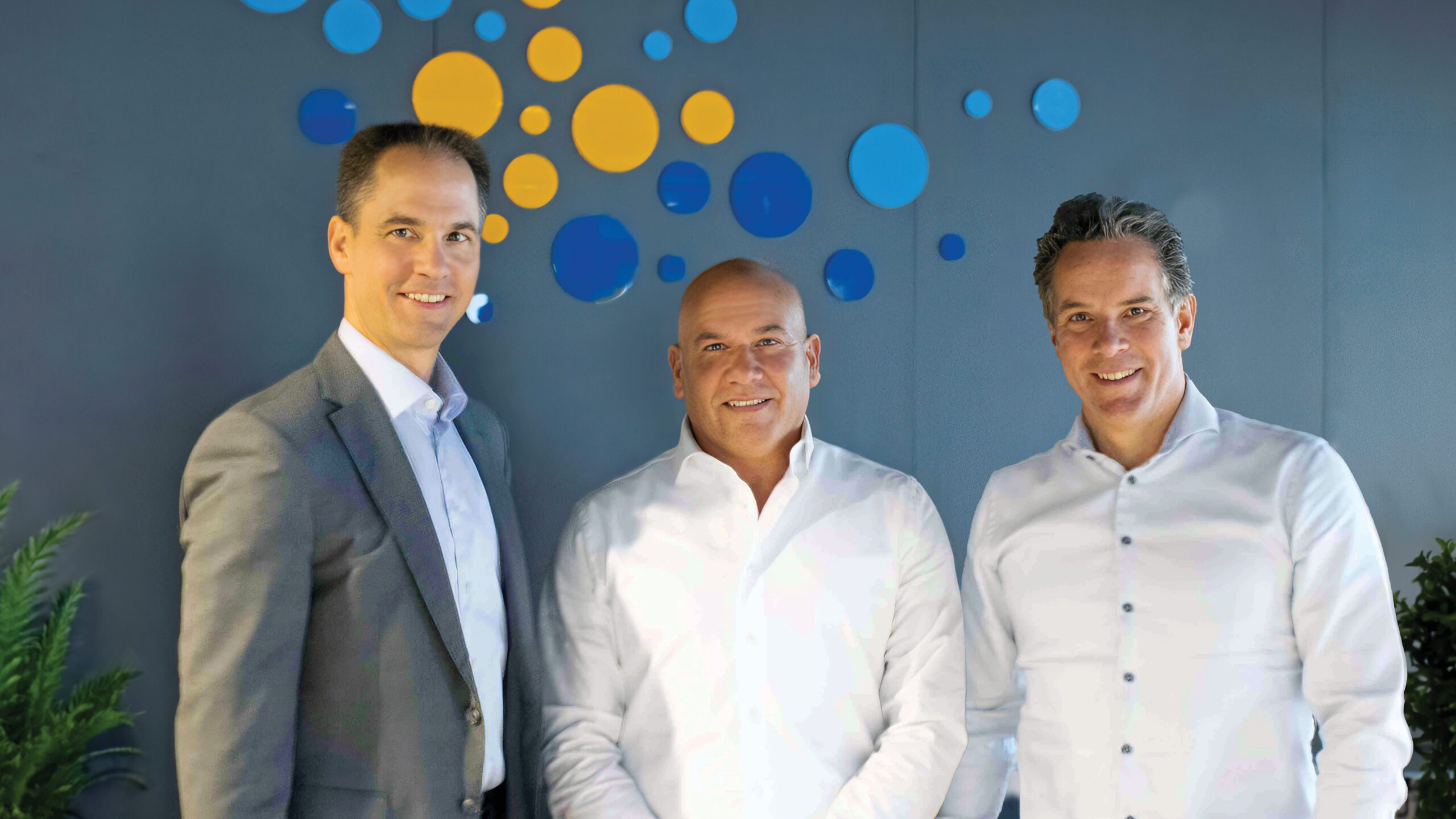 From left to right: Oliver Vaterlaus, CEO Eraneos; Andrew de la Haije; Maurice Boon, Managing Partner, Eraneos the Netherlands
About Eraneos Group
Eraneos Group is an international management & technology consulting group providing digitalization and transformation services, from strategy development to implementation. It has emerged from the alliance of Ginkgo Management Consulting, Quint Group, and AWK Group, as announced in 2021, and with DCP and SMP, in 2022. The Group serves clients across three continents where some 1100 dedicated and highly skilled professionals work jointly to unleash the full potential of digital​. Services range from the development of digital business models and data analytics to cyber security, and from sourcing and IT advisory to the management of complex transformation projects. Eraneos Group has offices in Switzerland, Germany, the Netherlands, Spain, Austria, China, Singapore, and the USA. In 2022, Eraneos Group realized a turnover of over 220m EUR. 

Further information: Eraneos.com,  Management & Technology Consulting | Eraneos Switzerland