Anchormen, a leading technology & consulting company in the Netherlands that specializes in data and AI solutions, has recently undergone a major change. Together with three other companies, they have formed Eraneos Group and now operate under the new Eraneos brand. This change marks a significant milestone in the company's history and is set to have powerful impact on the data and AI industry in the Netherlands and beyond.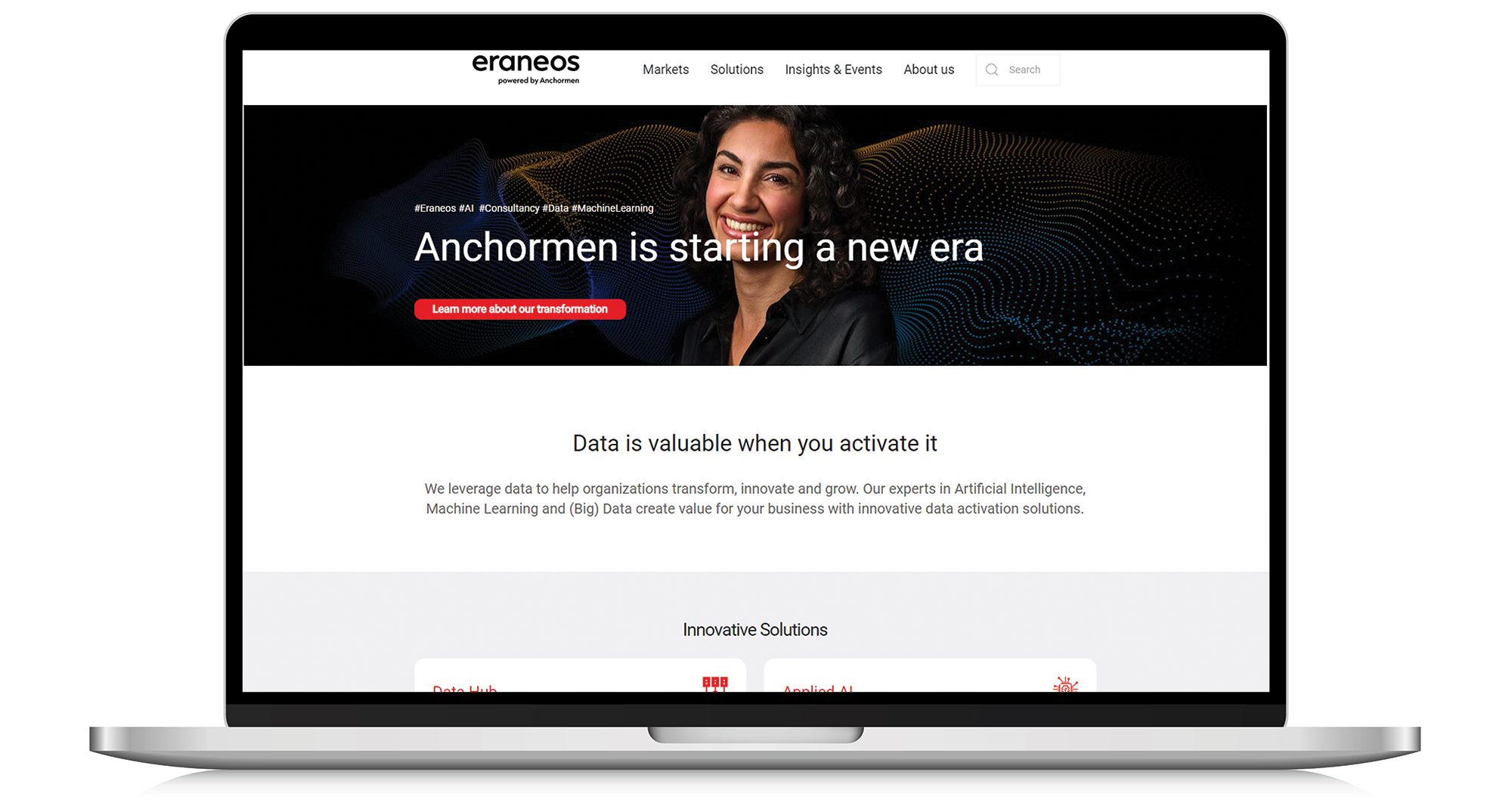 Embracing transformation
For two decades Anchormen has stood at the crossroads of Data Science & A.I., Data Engineering and Software Engineering. With a committed team of architects, consultants, engineers, and data scientists; professionals who each have their own expertise, but also share a passion for solving data problems and bringing on real innovation. The team is now set to take the next step of their journey under a new name – Eraneos.

Eraneos was formed by combining multiple strong companies with the same focus and a shared vision: Quint & Anchormen, AWK and Ginkgo. The new name combines the words, "era" and "neos," embodying the ambition to make an impact in the digital world in which all of us work and live. In this new era, digitalization will be key for organizations – both now and in decades to come.
Twenty years of innovation
Anchormen first opened doors in 2000, with a focus on creating digital solutions based on web technology. Initially based in Groningen, but soon after they expanded to Amsterdam as well. Over the years the focus of the company shifted more and more towards applying complex technology, building advanced applications, integrating systems and data sources, combining data and automating processes. So, when big data came around in the 2010's, focusing on it was the next logical step. In the years to come, data science & AI expertise was added to the focus and the foundation for the current organization was created.

In 2020 Anchormen joined forces with Quint, an international management consultancy organization with more than250 experienced consultants and a focus on digital transformation, technology, and training. The move made sense for both companies. Quint takes organizations on their digital transformation journey, developing their strategy and training employees, while Anchormen has the expertise and solutions to take them to the next stage and help fulfil their data-driven ambitions.

The next step came in 2022 when Anchormen & Quint merged with the Swiss management consultancy company AWK Group and the German Ginkgo Management Consulting. As a network organization they can make a much bigger impact for their customers, leveraging international knowledge and expertise from over 1,000 highly qualified employees. Eraneos serves customers on 3 continents and has offices in Germany, Switzerland, the Netherlands and Spain.
Putting the customer first
As a network organization formed by companies who have served as trusted advisors for many organizations around the world, our goal is to continue delivering quality work that generates sustainable impact. We help customers unlock the full potential of the digital age. Our ambition is to break new ground, think and act in novel ways and realize ideas that have a lasting impact on your future. Together, we are shaping a new era of digital.